THE NEED FOR
UTILITY SCALE SOLAR CLEANING
10%
SOILING LOSSES OF UTILITY SCALE PLANTS IN MANY REGIONS.
15-20%
DECREASE IN ROI FOR SOLAR DEVELOPERS IN PLACES LIKE INDIA.
40%
SOILING LOSSES IN CERTAIN REGIONS.
35%
STUDY REVEALED DUSTY SOLAR PANELS CAN SLASH POWER OUTPUT BY OVER 35%
OUR PATENTED SOLUTION

AUTONOMOUS. INTELLIGENT. EFFECTIVE.
Technology advancements
that set the SolTrek™ apart.
BRUSH TECHNOLOGY:
Utilizes brush technology and materials already approved for use on glass, car washes, and solar panel cleaning.  
 BLOWING TECHNOLOGY: 
Utilizes blowing and designed airflow direction to remove dust prior to brushing. This decreases abrasion and directs dust to the ground avoiding resettling on the panel surface.
ZEROWEIGHT™ TECHNOLOGY:

 
The weight of the system does not rest on the panel. This removes the risk of micro-cracking, tracking system balance issues, bending of panels, or other issues caused by force upon the panel frames.  This also allows for use with frameless panels.
 

AUTONOMOUS ADJUSTMENT:
Not all factors on solar plants are predictable. Trackers can fail and panels and their structures can shift due to seismic activity and other issues. Our technology is autonomously sensing the location of the panels and actively adjusting to them throughout every cleaning cycle.
EXISTING PLANTS COMPATIBLE:

 
We believe our system to not only be the most scalable cleaning system but also the only system that can be reliable and cost-effectively installed on existing plants.

AUTOMATED & AI ENABLED SOLAR PANEL CLEANING ROBOT
TECHNOLOGY COST COMPARISON
Significantly Reducing Solar O&M Costs
The Primary Goal of the SolTrek™ Development.
Features
minimum number of robots to clean 5MW daily
no additional infrastructure needed
to facilitate robot movement
cost-effective retrofit solution for existing plants.
robot redundancy to reduce robotic
cleaner down time/reduced plant production.
cost-effective even in regions with lower soiling
(i.e. North America and Europe)
Alternative Technologies
> 15
many require costly rails, bridges, or guides.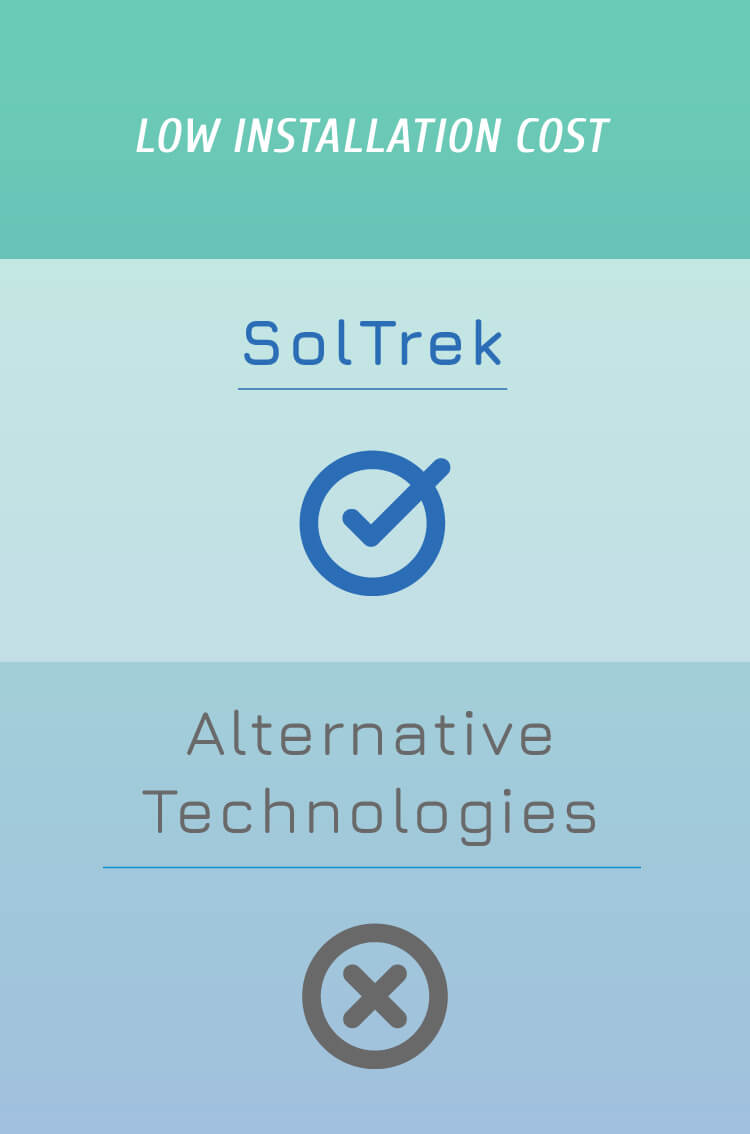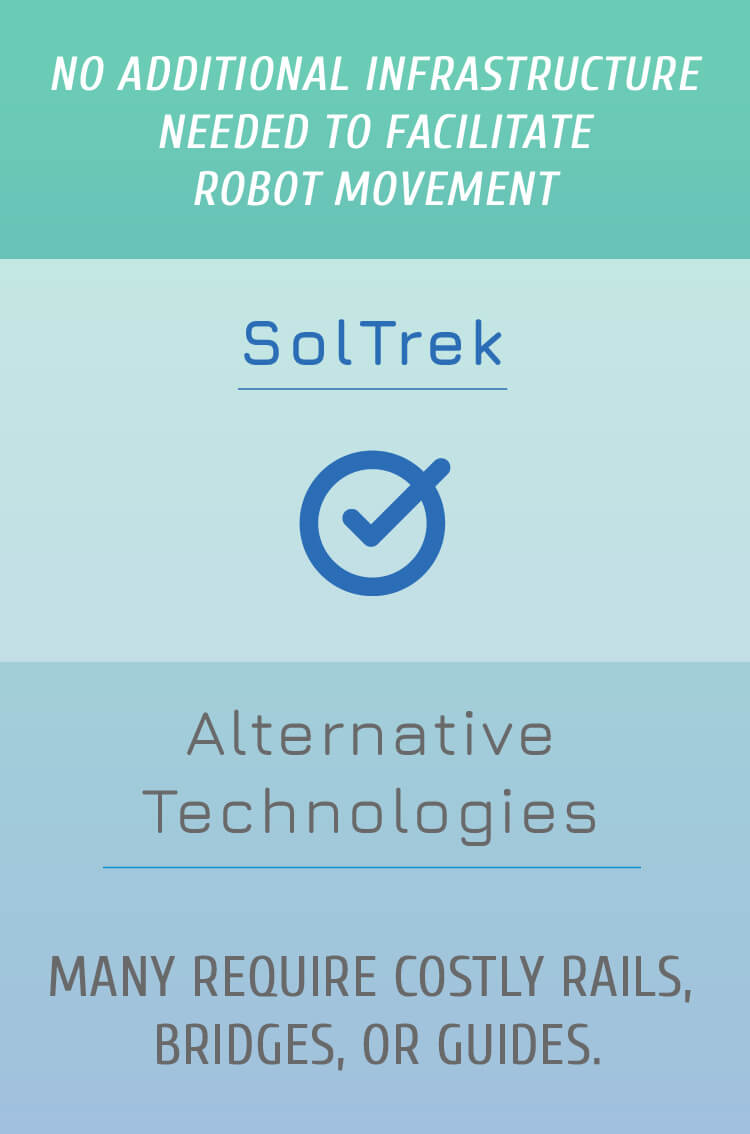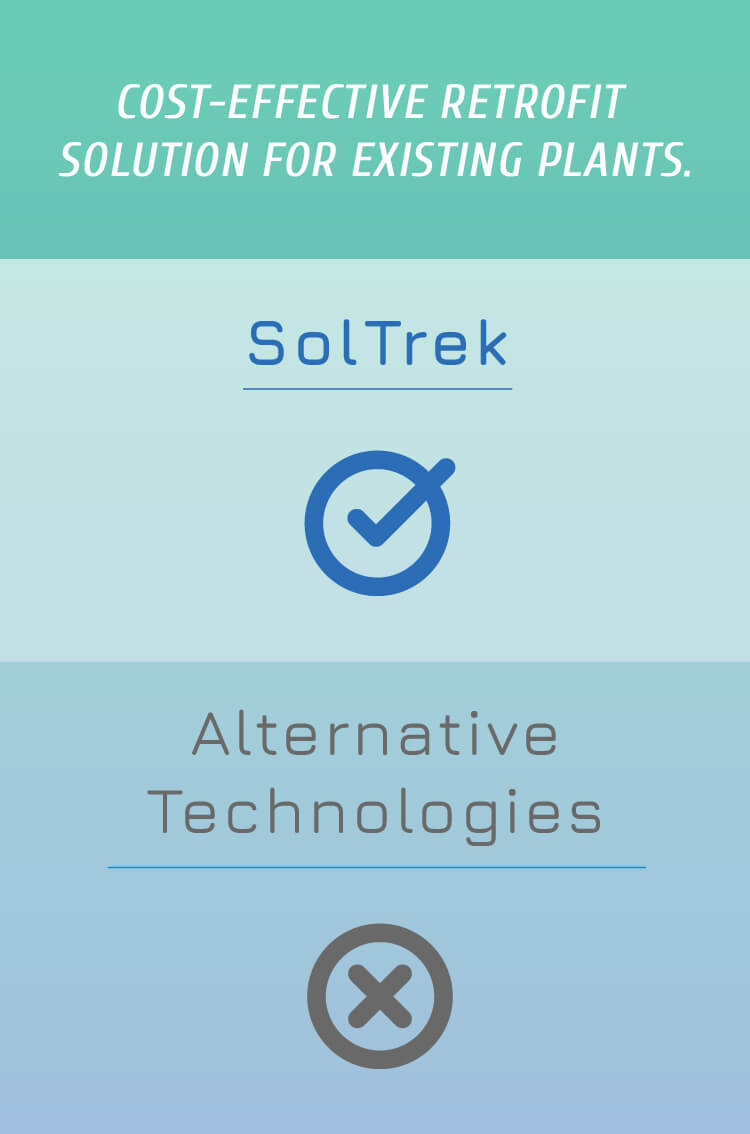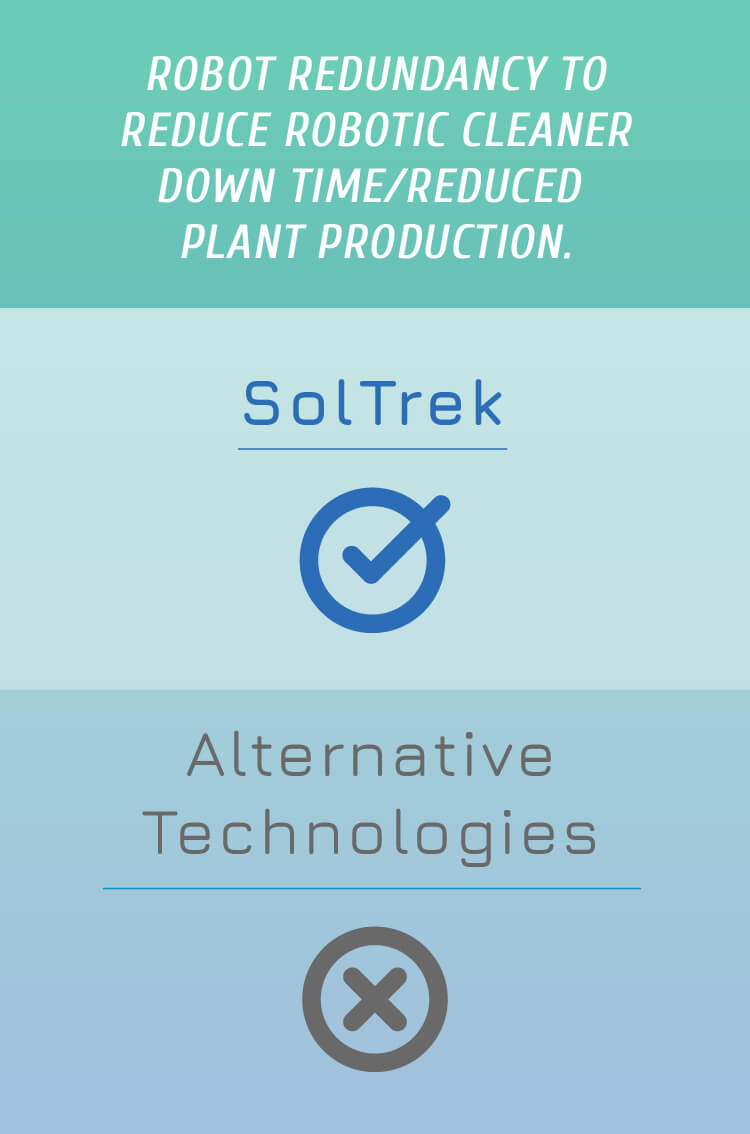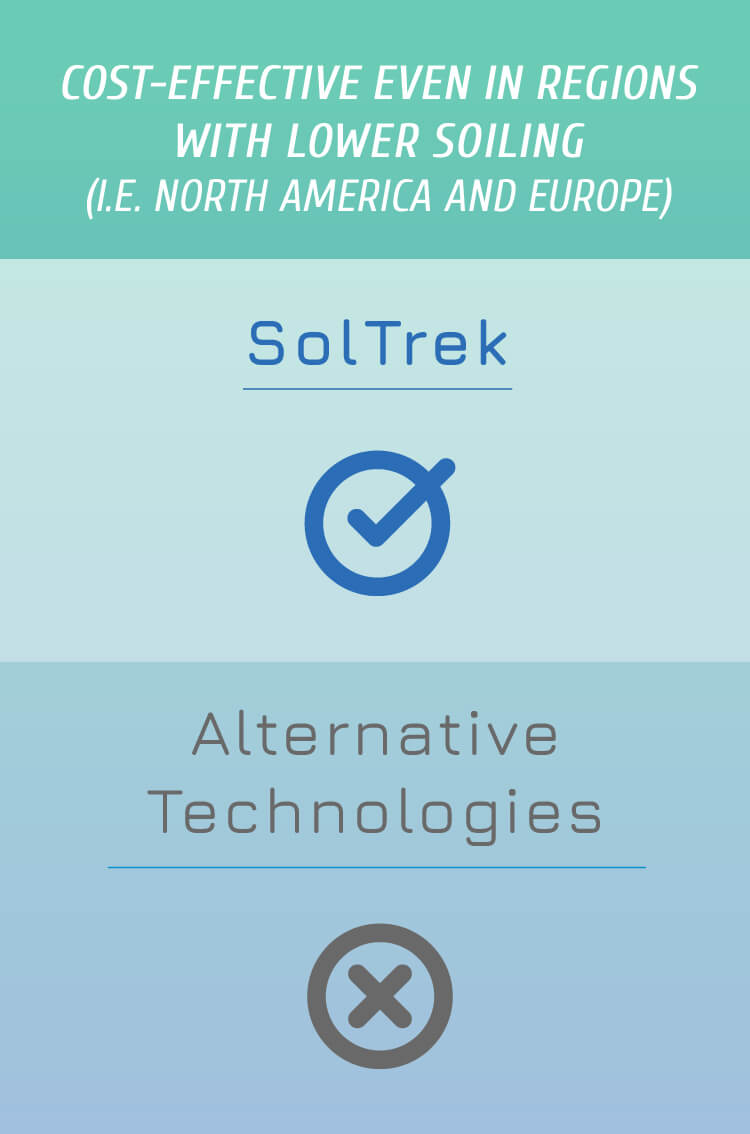 INTELLECTUAL PROPERTY
Multiple Granted Patents & Multiple Patents Pending
If you are interested in learning more about the details of the SolTrek™ technology or would like to schedule a demo please contact us below.